IN THIS SECTION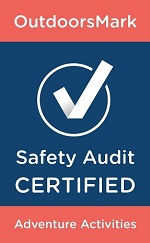 OUTDOOR EDUCATION AT THE Y
We run two Outdoor Education Centres; Kaitoke Outdoor Education Centre in Upper Hutt & Camp Raukawa in Whanganui
Our staff know how to organise camps.  This is your stress-free one-stop-shop for your school camp, church camp, community group retreat or training session.
Both centres have a range of accommodation options, catering or self-catering options, and endless programme activities, tailored to your age range and goals, with professional equipment and instructors.
YMCA camps for schools are designed to meet the needs of your group, and we can accommodate all levels of fitness and physical ability. You'll have a dedicated host for the length of your stay and we can also offer catering, as we believe healthy, wholesome meals are a key part of successful camps for schools.
Some groups require programmes that extend and challenge people more than our regular introductory outdoor education, which is why we've introduced a range of programmes including Duke of Edinburgh related camps, leadership development, and a three-day group challenge.  Let us know what you need, and we can make it happen.
We know how important it is that your children are in safe hands, so all YMCA camps are MSD approved and meet the criteria of the OutdoorsMark external audit scheme.
Our feedback reflects our greatest asset- our staff and our programme delivery. With great activities and tailor-made programmes, we ensure that your programme meets the learning outcomes and goals of your group, the time frame you have, and most importantly, your budget. This is the part of camp that  YMCA staff know best: how to take people outside to learn, to develop, to have fun.
FIND A SITE
CONTACT US
If you would like to contact us about any of our our Outdoor Education programmes or services, click on the link below to send us an email.
ENQUIRE ABOUT AVAILABILITY
LEARN, GROW AND THRIVE AT THE Y
When school is out, the Y is in! The Y offers a range of recreational based kids programming available throughout the year. Our programmes create fun, safe, fun-filled environments for kids to grow in body mind and spirit. Our values of caring, respect, honesty and responsibility are paramount to the delivery of our programmes.
FEEDBACK & COMPLAINTS
Y-Central is fully committed to listening and responding to all customers, staff and public concerns, questions or comments about our organisation. Our priority is to have an open and accountable organisational culture that understands the needs of children, their whanau, and our community. We welcome your feedback.